Imagine having your global car production centered in the UK and Brexit uncertainty being only fourth or fifth on your list of headaches. That is the nightmare facing Jaguar Land Rover as it slumped to a loss in the first half of 2018 amid falling sales, high costs and production freezes.

JLR has been an industry success story since Tata Motors purchased the struggling Land Rover SUV and Jaguar sports sedan brands from Ford Motor in 2008. Back then, JLR was "near bankruptcy," says Ralph Speth, the former BMW executive who was hired to turn around the British company

Under Speth and his management team, also largely recruited from JLR's German premium rivals, sales almost tripled to 604,000 in the automaker's 2017 fiscal year from 241,000 in the 2011. JLR has capitalized on surging global sales of SUVs, posting record profit after record profit, peaking at 2.6 billion pounds (2.9 billion euros) in the 2015 financial year.

Fast forward to 2018 and the company lost 354 million pounds in the first six month of its current financial year (which runs until March 31, 2019). This caused S&P Global Ratings to lower the credit rating of Tata Motors and JLR deeper into junk status last month, citing weaker-than-expected profitability at JLR.

In response, JLR plans to slash costs by cutting jobs and reducing its r&d budget. Falling sales have already forced JLR to lower production and reduce the size of its contract staff. The closure of one of its four UK assembly plants is looking more likely and the fallout is expected to include a dramatic change of direction for the stuttering Jaguar brand.

Just before Christmas, Tata Motors publicly backed its troubled UK subsidiary amid speculation about JLR's future.

"There is no truth to the rumors that Tata Motors is looking to divest our stake in JLR or discontinue the Jaguar brand. We have great belief in the potential of JLR's distinctive premium products and brands as well as in JLR's design and engineering capabilities," Tata Motors and JLR Chairman, Natarajan Chandrasekaran, said in an emailed statement on Dec. 24.

China crisis
JLR Chief Financial Officer Ken Gregor told analysts during the company's second-quarter results call in November that China has driven the sharp deterioration in profits. "It's the single biggest challenge," he said.

JLR's sales slumped 44 percent in China during the quarter, a collapse that Gregor blamed on falling consumer confidence and import tariff changes. In response, JLR dramatically cut production to reduce the resulting buildup of unsold cars, both in the UK and at its joint-venture plant in Changshu, near Shanghai. "Changshu has basically been closed for most of October," Gregor said.

China became JLR's biggest market in 2017, accounting for 146,399 sales, according to company figures. The Range Rover Evoque was the first model produced at the Changshu plant when it opened in 2014. The Land Rover Discovery Sport along with the long-wheelbase versions of the Jaguar XE and XF sedans followed. The Jaguar E-Pace is poised to be the next model made in China.

JLR's dealers in the world's largest car market, however, don't like the locally built cars. "They tell us that they lose money selling those vehicles," Gregor said, adding that JLR plans to end the "vicious circle" of pushing ever-higher incentives to support an "unsustainable" level of volume in China. "If that means accepting lower volume to allow our own profitability to be rebuilt then that's what we will look to support," he said.

China's downgrade to JLR's fourth-largest global market, based on its 10-month figures, marks the end of the country being JLR's cash machine. At one point, JLR was making 60,000 pounds of profit on each Range Rover SUV it sold in China, Bernstein analyst Max Warburton estimated. "Company profitability was too narrowly dependent on China," Warburton told Automotive News Europe. "It papered over a lot of cracks elsewhere."


Excess capacity
One of those cracks is excess capacity in JLR's expanding production network. The Chinese downturn is coinciding with the opening of JLR's new factory in Slovakia, the expansion of its Chinese plant, the production start for Jaguar's E-Pace SUV and full-electric I-Pace, which are both being made by contract manufacturer Magna Steyr in Austria. Along with temporarily idling its Chinese plant, JLR has responded to falling demand by imposing a three-day workweek at its plant in Castle Bromwich, while in November it cut 500 contract workers at its engine plant in Wolverhampton and another 500 at its Solihull factory. All three facilities are in central England.

Three industry specialists who spoke with ANE believe JLR will end up shutting its Castle Bromwich site for good. "It will be a shopping center within five years," Warburton predicted. The site is small, making about 50,000 vehicles a year, and the cars it does build are Jaguar's slow-selling sedans. "The bigger question is: How do you build in Slovakia, and keep both Halewood and Solihull," Warburton said. Solihull, home of the flagship Range Rover, lost the Land Rover Discovery when it was moved to the new Slovakia plant late last year, while Halewood, a former Ford plant in northwest England, makes JLR's best-selling (and newly replaced) Range Rover Evoque as well as the Land Rover Discovery Sport.

Slovakia is scheduled to make the replacement for the Land Rover Defender starting this year, but its sheer size -- 150,000 vehicles a year with the potential to increase to 300,000 -- and its much lower cost base means it needs more work. It was due to build the Jaguar XE and XF when their replacements arrived around 2023, according to previous IHS Markit predictions. It seems unlikely, however, those cars will survive.


A bold plan under review at JLR is to transform Jaguar into an electric brand, a source said. Jaguar has already successfully launched the battery-powered I-Pace SUV, beating rivals from Mercedes and Audi to market.
Jaguar falters
Jaguar weighed on Land Rover's success while Ford owned the two brands and Jaguar's troubles look to have returned. Just as Ford failed to successfully expand Jaguar's lineup with the X-Type midsize sedan, JLR has also failed to succeed with either the XE or the bigger XF, despite both using a bespoke, rear-wheel-drive aluminum platform that helped them at least match the dynamic abilities of their BMW equivalents. XE sales were down 22 percent through October 2018 to 26,218 while demand for the XF slipped 20 percent to 27,872, according to JLR figures.

Despite that, Jaguar is shifting around four times the volume that it had when Tata first took over, mainly because of the F-Pace and the recently launched E-Pace SUVs. Ominously however, global sales of the brand's best-selling F-Pace fell 25 percent through October, suggesting the E-Pace is cannibalizing some of its sister model's sales.

The sedans have been hamstrung both by their anonymous looks and stiff competition from BMW, Audi and Mercedes-Benz, IHS Markit principal analyst Tim Urquhart said. "The XE and XF are competent but against the Germans they're a bit of a waste of time," he said, adding that they probably won't survive, which means a bold plan is needed for the brand. "Standing still and keeping as it as it is, is not an option," Urquhart said.

The bold plan is to transform Jaguar into an electric brand. "It's definitely an advanced plan and is only a matter of time before it's signed off," said a person with knowledge of the situation, who asked to remain anonymous. Jaguar has already successfully launched the battery-powered I-Pace SUV, beating rivals from Mercedes and Audi to market, while the XJ sedan will be reinvented as an electric car, UK media reports say.

The problem is that it won't help profitability, not initially. JLR CFO Gregor admitted that the I-Pace's margins are lower despite being priced 15 percent above an equivalently equipped F-Pace. In fact, he said the I-Pace was more useful to help JLR reach tougher forthcoming CO2 targets in markets such as Europe and China. "Those electric vehicles are really important for balancing out the vehicles that have higher CO2 footprints," he said. They also mean Jaguar eventually will not need smaller cars to achieve that compliance, giving them more reason to kill the XE.


Multiple headwinds
These are some of the other challenges JLR is trying to overcome.

Brexit: Britain's exit from the EU trading bloc at the end of March could cause all sorts of problems for JLR in terms of border friction or even tariffs, depending on what sort of deal is negotiated. A poor deal could wipe a billion pounds (1.12 billion euros) from JLR's profits, the company says. One good manufacturing decision it made was locating a plant in Slovakia, giving JLR a presence in Europe after the UK leaves the EU. It's already helping: In October Slovakia pushed to keep the CO2 derogations that means JLR has a much softer target for 2020-21.
U.S. tariffs: President Donald Trump has repeatedly threatened tariffs on cars from Europe. Barclays Research described JLR as being "significantly exposed" in a recent report while JLR sources estimate tariffs would cost the company around a billion pounds annually. North America was JLR's biggest sales market through 10 months of last year, beating Europe and the UK.
Quality: JLR has worked to improve the traditionally poor reliability of its cars, but the Jaguar and Land Rover brands still finished second-to-last and last, respectively, on JD Power's 2018 U.S. quality study.
Diesel: JLR believes sales have been hurt by the shift away from diesel in Europe, where 84 percent of JLR's vehicles are sold with the powertrain.

The turnaround
JLR needs to make the tough decisions rival Volvo made a long time ago, a senior UK car industry executive told ANE on condition of anonymity, "They need someone like [Volvo CEO Hakan] Samuelsson. He ditched the old production plans, kicked out six-cylinder engines and diesels and said: 'We don't try to do everything because we can't'," he said. "I don't see any signs JLR is thinking like that."

JLR admits that the days of achieving a 14 percent EBIT margin, which it did during its 2015 financial year, are long gone. The automaker is targeting a figure of between 7 percent and 9 percent, CFO Gregor said. During its previous financial year JLR's EBIT margin slumped to 3.8 percent. "That's not a figure we like at all," Gregor said.

S&P said recently launched and upcoming products may help prop up growth, though competition in the luxury car market may hurt margins.

JLR's problems are not unique. Global uncertainties, the shift to electric and competing demands on tech investment are cutting automaker profit forecasts globally. JLR, however, is on the back-foot to a greater extent than any of its bigger premium rivals. To counter this, JLR has formulated a turnaround plan called Project Charge. The plan calls for savings of 2.5 billion pounds in 18 months. Of that total, 1 billion pounds will come from cutting 500 million pounds each from its investment plans for the 2019 and 2020 financial years.

S&P, however, considers the company's cost cut target to be aggressive. It forecasts that "JLR will have significant negative free operating cash flows over the next two years, resulting in weak financial ratios for Tata Motors."

Despite that, JLR's cash flow will suffer in the short term. Said JLR Treasurer Ben Birgbauer during the Q2 analyst call: "We expect negative cash flow this year and it may be negative next year [and] in the following year as well."

Job cuts are also likely at JLR, Gregor warned: "The sort of cost reductions that we are targeting are really not possible without also reducing employment costs and employment levels."

If they are prepared to make tough decisions, the plan could work, Bernstein's Warburton believes. "The issue with JLR is not one of revenues and margins, but costs and outgoings," he said. "It's just been running so fast it has gotten to a level of spending that's eye-opening. In theory Land Rover is hugely profitable."

Jaguar Land Rover is facing a host of problems including the costs associated with a shift to EVs and the ever-present problem of Brexit. To counter this the automaker aims to slash costs, cut jobs and reduce its r&d budget.

plan calls for savings of 2.5 billion pounds in 18 months. Of that total, 1 billion pounds will come from cutting 500 million pounds each from its investment plans for the 2019 and 2020 financial years.

In response, JLR has announced it wants to dramatically slash costs by cutting jobs and reducing its r&d budget. Falling sales have already forced JLR to cut production and reduce the size of its contract staff. The closure of one of its four UK assembly plants is looking more likely and the fallout is expected to include a dramatic change of direction for the stuttering Jaguar brand.

Eccellente articolo sulla crisi di JLR, che è stata piuttosto repentina. Nel 2015 raggiungevano un margine del 14%, adesso sono in passivo. Le agenzie di Rating hanno tagliato al livello spazzatura le obbligazioni della capogruppo Tata Motors e i proprietari indiani sono intervenuti pubblicamente dicendo che non vogliono vendere l'azienda britannica ne' chiudere Jaguar.
La lista delle difficoltà è lunga, in cima troviamo i problemi la Cina.

1)Gli inglesi sono stati troppo ottimisti con le previsioni di vendita per l' estremo oriente e nel 2018 le vendite sono crollate del 44%, sono rimaste invendute grosse quantità di auto e il livello di stontistica ha raso al suolo là redditività. N.b. non è un problema esclusivo di Jaguar, Mercédes lo ha avuto nel 2013, Audi nel 2017 e BMW nel 2015, dato che i costruttori occidentali non possono bullizzare i propri concessionari cinesi come fanno nel resto del mondo.

2) costi fuori controllo: in pochi anni la gamma è aumentata in modo importante, al contrario di Volvo cars che ha rinunciato a sviluppare i V6 e può contare su una discreta condivisione con la capogruppo Geely, JLR ha voluto fare tutto da sola. I costi per il raddoppio della gamma e l' apertura delle fabbriche in Cina e Slovacchia non vengono coperti dai ricavi. La fabbrica cinese è molto sottoutilizzata, quella slovacca anche. In Gran Bretagna Castle Brownich (che produce berline Jaguar) è a fortissimo rischio.

3) Jaguar: non è mai stato un segreto che Jaguar sia il ventre molle del gruppo, già dai tempi di Ford. Purtroppo per Tata ci hanno investito parecchio. La XE e la XF sono pesanti flop e la E-Type è partita male riuscendo a cannibalizzare la F-Type. Si parla apertamente di rendere il marchio esclusivamente elettrico, abbandonando diversi segmenti tra cui quello della XE.

Non parliamo poi della possibilità di una hard Brexit che sarebbe una catastrofe.

Chissà se dietro le smentite Tata non stia pensando ad una cessione o quantomeno ad alleanze. Ad esempio un ritorno dei marchi inglesi (solo Land Rover era finita ai bavaresi) sotto l'egida di Monaco non sarebbe un'idea tanto folle.
Allegati:
933F3A6C-B7C2-4A4A-9BED-B257812F9715.jpeg [ 86.88 KiB | Visto 355 volte ]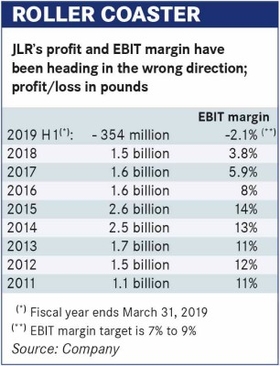 688D530E-CF89-4FFD-A795-8377159947E2.jpeg [ 78.43 KiB | Visto 355 volte ]