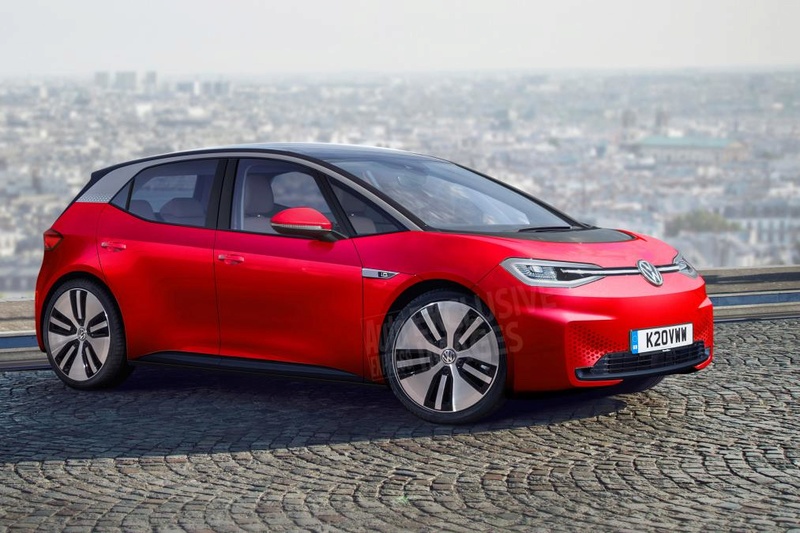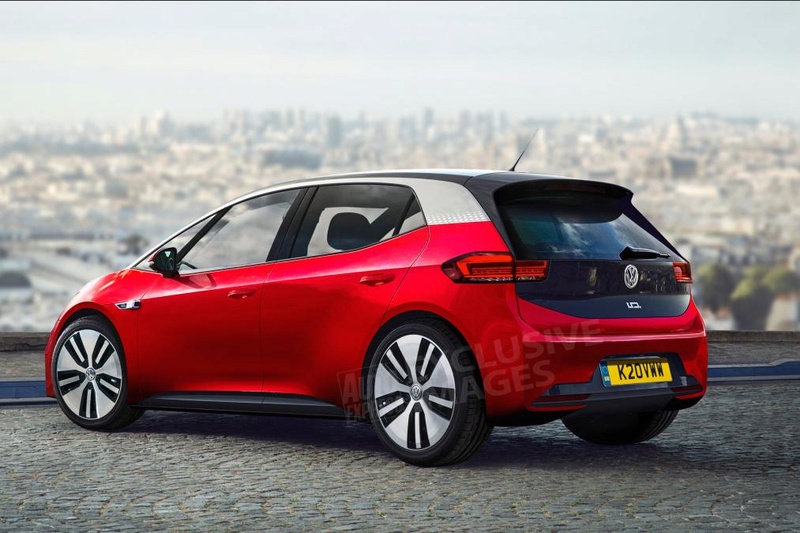 The VW I.D. electric car is drawing nearer to production with bosses revealing more details on the specification and design of the car
Volkswagen is aiming to fight back against the likes of the Tesla Model 3 when it brings its I.D. range of pure-electric cars to market from the end of this decade. The process will start with a VW I.D. hatchback that promises to trump anything else in the class on space and practicality.
The production version of the I.D. concept that was shown at last year's Paris Motor Show will make its debut in 2019, with deliveries due the following year.
• Best electric cars to buy now
Underpinning the hatchback – and the full range of I.D. products – will be VW's new MEB platform. Auto Express understands that the architecture will be offered with a range of up to four battery capacities.
Image 2 of 16VW I.D. exclusive images rear
Image 2 of 16
Assuming that the entry-level I.D. hatchback uses the smallest of the units – to fulfil VW's public promise that the car will cost the same as a well specced diesel Golf – and an electric motor of around 90kW (120bhp), it should have a range of about 300 miles. A higher capacity, more expensive I.D. hatch could conceivably add up to 150 miles to that figure.
VW design boss Klaus Bischoff revealed to Auto Express in the autumn that the production version of the I.D. hatchback has now been signed off. As previewed by our exclusive images here, the final car is expected to grow a little from the concept, not least because that vehicle's ultra-short bonnet would present problems with pedestrian impact protection rules.
• VW I.D. Crozz II concept: full details
However, even if the final I.D. hatch is as long as the next VW Golf (also due in 2019), its electric powertrain and battery packaging should allow it to have a much longer wheelbase. This will help it to deliver interior space that's on a par with the VW Passat's, especially for rear-seat occupants.
Bischoff also revealed details on which concept cues would make it to production. The show car's radical doors have been ditched, replaced with conventional openings, a regular B-pillar and normal handles. However, all I.D. hatchbacks will get the show car's gloss black roof and tailgate as a 'compulsory' design feature, similar to the black bonnet seen on the BMW i3.
Image 4 of 16Volkswagen ID interior
Image 4 of 16
Bischoff told us: "I've been arguing for the black roof to be a signature. So far, I have it on the hatchback and the SUVs." Arguably the concept's most radical feature – a steering wheel that slides into the dashboard – has also been dropped. But we'd still expect the interior of the I.D. to look sophisticated, with a small instrument panel and a floating central infotainment screen to help maintain an 'airy' feeling.
The car will also retain most of the concept's autonomous tech, with advanced sensors positioned in the front bumper and around the number plate. And, despite the adoption of side mirrors, further cameras and sensors are fitted along its flanks.
VW could use the car to introduce a version of the 'augmented reality' head-up display that it showcased on the I.D. concept. The system 'projects' navigation instructions on the windscreen in front of the driver, pointing directly into streets where it wants you to turn.
VW boss Herbert Diess confirmed to Auto Express earlier this year that the other models in the initial I.D. line-up would be a saloon, another larger SUV and a microbus. But he admitted the firm is considering "more emotional" EVs for early in the next decade, including a sports coupé – in effect, a replacement for the recently discontinued Scirocco – as well as an all-electric Beetle.
VW I.D. Concept launched at CES 2017
Volkswagen has previously spelled out its plans to develop an entire range of I.D. electric cars, similar to what it offers with the likes of the Golf and Passat. Talking to Auto Express at the 2017 Consumer Electronics Show in Las Vegas, Christian Senger, vice president Product Line G4, e-mobility, said this would give the production I.D an immediate advantage in the market.
"The affordable electric cars of today only have one range and one size of motor," he pointed out. "But we are really successful in having a range of performance."
Image 5 of 16Volkswagen ID Concept - front quarter
Image 5 of 16
Senger cited the example of the original Golf in 1974, which was offered with power outputs stretching from 45bhp to 110bhp, as the blueprint to boost appeal.
"We need to recreate this with e-mobility," he continued. "We can start with a rational approach, the car performing quite well every day. But then we can scale up – more range, more acceleration, more charging points for the money and maybe also four-wheel drive.
"We will be starting with 400km (248 miles), then 500km (310 miles), the 600km (373 miles) for all the MEB products. Around 400km will be the minimum."
MEB is the name of the Volkswagen Group's newly developed platform for electric vehicles. Senger reflected on the car's debut at the 2016 Paris Motor Show and said feedback had been "90 per cent positive".
He claimed the concept was "80 per cent" of the production car, but added that some negative feedback had ensured there would be tweaks to the cabin.
He continued: "There were questions about the interior; if it was not too spacious, not feeling covered [too exposed]. Maybe we have created too much roominess and have to bring the dashboard closer to the passengers." He also promised "warmer materials" in the production car.
And he admitted that plans to dispense with a conventional instrument cluster and use only a head-up display have been ditched.
Image 7 of 16Volkswagen ID Concept - side
Image 7 of 16
"All cars will have a middle console but a different one from now, so that there is something in the middle. Nothing in the middle doesn't work."
"The main discussions were about the materials not being warm enough. There was nothing about the bodystyle."
Said Senger: "We thought about making the head-up the only information source and not having a cluster in the I.D. but this is too risky. People still want the cluster. And of course we have to make the entry version more affordable. But we will clarify this over time. The head-up may be the only source [in future]." And he acknowledged the fact that this would hike costs up was a factor, too, but hinted this will change in future.
"In 2020, we couldn't achieve this [an affordable price]. But we are not far away. Maybe by 2025 there is a chance will be close. For sure the I.D. will have a cluster but it will be upgradable with head-up."
Senger also confirmed that the I.D. will have some autonomous capabilities, but suggested that drivers will not have to specify them and a fully autonomous version was some way from coming to market.
Because MEB will be a sensor and actuator platform, the semi-autonomous features will be built in as standard.
But the massive cost of fully autonomous features – around 6,000 Euros (£5,156) to fit – could lead to the relative cost of a Golf being added to the I.D.'s sticker price, which of course would be unworkable.
"The cost you need for the functions leads to a really huge price point," said Senger. "In order to make it profitable, you can say you need a price point something between 15,000 (£12,891) and 20,000 Euros (£17,189) [on top]." And that, he said, was a route VW would not go down.
However, the car is "very much on track" for its 2020 debut.
VW I. D Concept: design and technical specs
With a claimed range of between 249 to 373 miles, the Volkswagen I.D. can be recharged wirelessly to avoid the hassle of having to plug your EV in at night or at work. There's also the option to plug the I.D. into the mains as with current EVs, with the German brand claiming an 80 per cent re-charge takes 30 minutes.
It was also the first Volkswagen to be engineered for fully autonomous driving, which VW says will be available to customers from 2025, by which it hopes to be selling one million electric cars per year globally.
Image 13 of 16VW electric car Paris concept sketch front
Image 13 of 16
Visually, the I.D. adopts a completely new design language that will be exclusive to VW's future range of EVs. The front end is completely blanked off as the 168bhp electric motor that powers the car doesn't require the same cooling as a conventional combustion engine.
• VW targets 370-mile electric car range
It's underpinned by a completely new MEB modular electric drive architecture, which has been exclusively developed for electric vehicles across the VW Group. All vehicles based on the MEB platform will be powered by lithium-ion batteries, which for the first time will be sandwiched between the car's floor, meaning no sacrifice has to be made in terms of boot space to house the battery pack.
This should also bring benefits in terms of handling, as it keeps the car's centre of gravity low. This feature has also helped VW to completely reimagine the cabin and interior space. VW has previously said the platform creates an additional 240mm of passenger space over an equivalent hatch with a conventional powertrain, with bosses claiming that while it's no larger than a Golf on the outside, the space freed up where the engine would usually be makes the interior as roomy as the firm's Passat saloon.
Another feature of the I.D. concept is its ability to take delivery of parcels or packages from an unspecified delivery service when the owner is not at home, while it'll also find an empty parking space in a multi-storey car park all on its own.
On the open road the I.D. will accelerate from 0-62mph in "under eight seconds", according to VW, while the top speed stands at a respectable 99mph – although don't expect to reach the higher end of the claimed range if you use the performance.
Vw ha presentato a porte chiuse la I.d. a 5 porte che sarà la prima elettrica dotata del pianale MEB e dovrebbe dare il via alla produzione di massa delle elettriche. La lunghezza sarà sui 4,3 metri con uno spazio interno superiore a quello della Passat. Avrà un'autonomia di 400 km, velocità massima di 130 e accelerazione 0-100 in 8 secondi. Del futuristico interno con volante a scomparsa rimarrà poco ma ci sarà un senso di spaziosità nettamente superiore a quello della Golf. Verrà svelata al salone di Francoforte del 2019.